Children's holidays on a farm,
the mountain farm Ronsol
near Castelrotto
…
A family holiday is always exciting for children and adults alike. Parents seek to recharge their batteries and recuperate through shared and rich experiences. Children still have energy after a stimulating day and want to play, romp freely, race around, jump and climb. Our farm is the perfect place for them. Children's holidays at the mountain farm Ronsol offer a whole range of things to do and the farm is a place for the curious minds to explore. With the natural and simple materials that they find at the farm, our young guests often create masterpieces out of stones, branches and grass. There are no limits to their creativity.
If the children are happy, so are the parents. Finally, a bit of time for themselves, perhaps dipping into a book from our library or enjoying the sun on our balcony or in the meadows. All that surrounded by a view of the South Tyrol Mountains that is beyond words.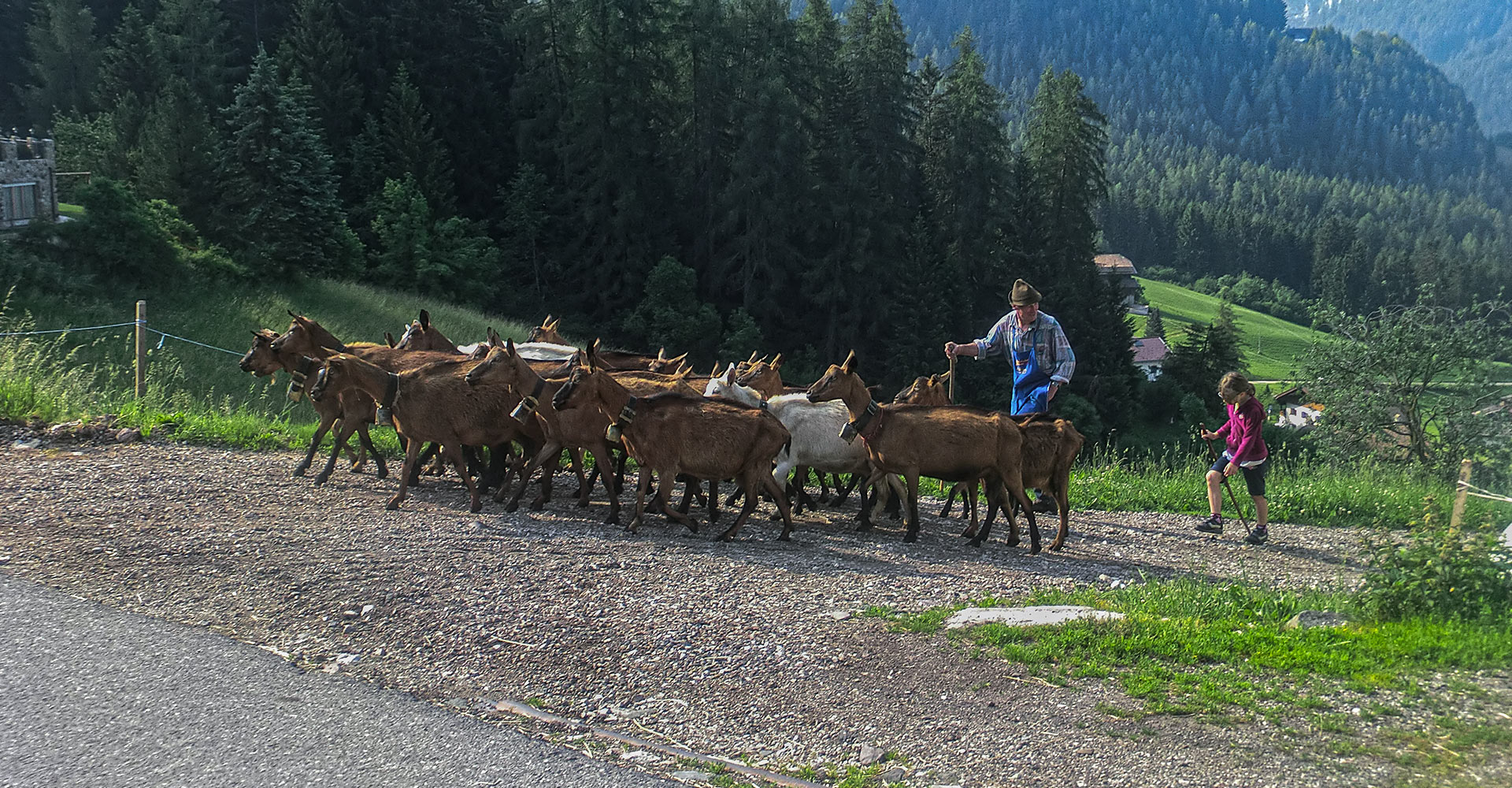 The play area
in our little paradise
…
We have a gymnastics tree for testing out agility, a slide, swings and a teeter-totter for our young guests, pedal-driven tractors to race around, a sandpit for building castles and a table football and table tennis. All that is guaranteed to bring joy during your holiday at our farm. If you want to get sporty, you can play badminton or let off steam with a hula-hoop. And the best of all: the kids can experience all this outside in the pure and healthy mountain air.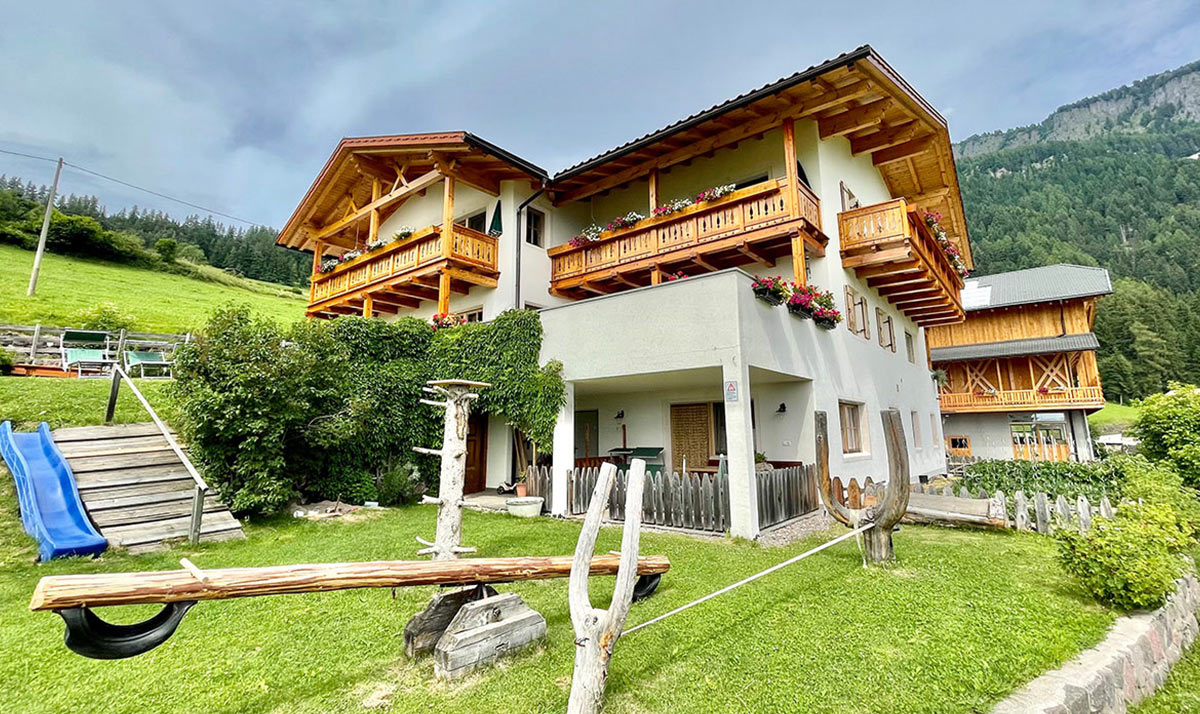 Inside we have a small playroom with different games, balls, dolls, tractors and other play items, board games and craft materials. This is also where we keep our library: hiking books, books on the history of South Tyrol, its customs and traditions as well as all types of novels and books for children.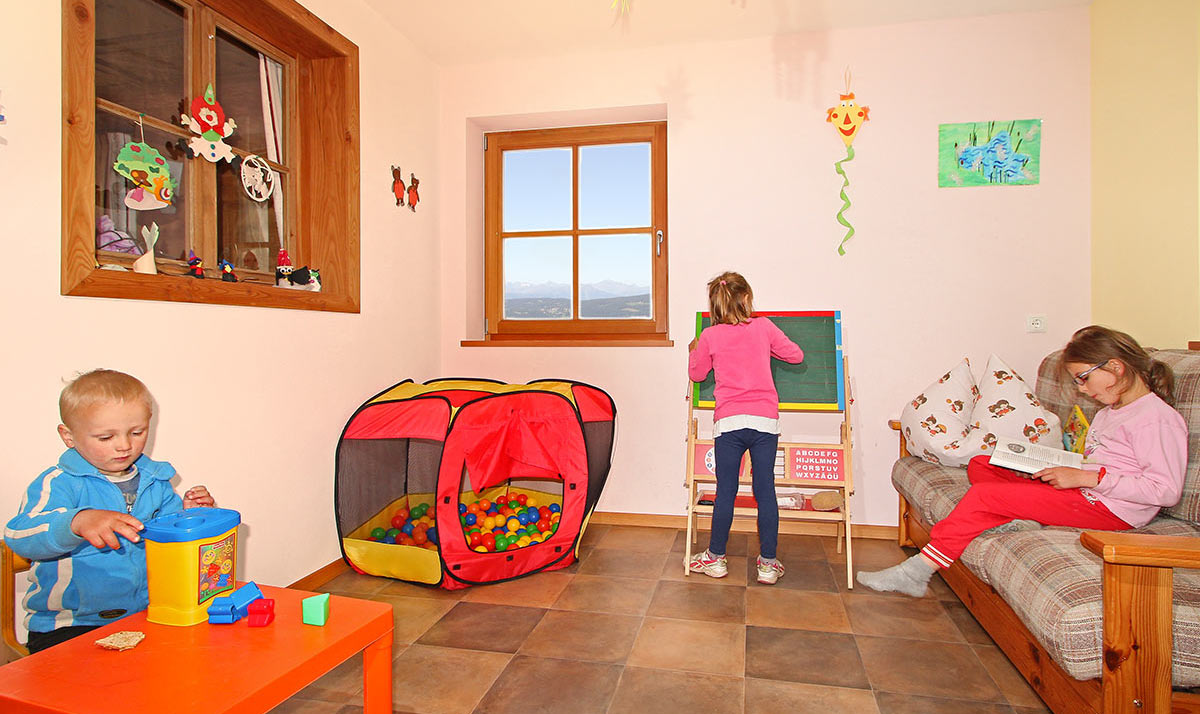 Our animals,
an integral part
of holidays on our farm
…
Our pets give everyone lots of joy. It is exciting to see how the goats lark about in the meadow, how the mother ducks feed and protect their young. Petting our cats or taking care of our livestock is an experience that opens up the urban child's mind to nature, nutrition and consumption. Holidays at the farm are restorative, exciting and educational – for children and adults, and best of all is the fresh mountain air.
Adventure farm
for youngsters
…
Children in particular experience our farm with all its sights and sounds. They look closely at the green meadows, enjoy the scent of the hay, hear the birds and the bees, feel the soft coat of the calves, taste fresh cow milk and experience the farm in the flesh. The many farm animals are a great excitement to our visiting children. Then there are their many questions – why white hens lay white eggs and brown hens brown eggs, why cows are not purple etc. – this is what they want to know. Children learn to respect and love animals just from feeding and stroking our animals. From daily contact with the animals, children also learn that even small animals bring a great deal of responsibility with them. These are valuable lessons, particularly suited to your children and their boundless curiosity on our farm.